Innovative and tailored executive coaching services accelerating leadership impact, systemic transformations, and developing high value-creating teams.
Why Bridgeline?
Bridgeline Executive Coaching is a team of the most qualified executive coaches with global and functional industry experience, committed to stay ahead of the coaching industry curve, by continually evolving our offering, in partnership with our clients' quest to remain competitive in an ever-changing world.
Qualifications
Our coaches are trained, proven, and certified as executive coaches.
Diversity
One size doesn't fit all. Our team brings a vast array of multi-lingual, multi-cultural, diversity, and global expertise in coaching and as executives.
We cover the entire leadership spectrum
Leadership growth is a journey, not a destination. It starts with the first promotion into a leadership role and continues throughout the career of a leader.
Client satisfaction management
We will assign a client management team to remain engaged with key stakeholders throughout the process in case adjustments are needed.
Value
Our aim is to play a key role in driving value to our clients by maximizing the impact executives, teams and organizations have on their stakeholders, at an equitable price.
Shadow coaching
We believe in observing our client in their element to lend an outside perspective (from the balcony, instead of the dance floor) for new awareness and optimal learning.
Experience
Our coaches have been on your side of the table. We have a vast range of executive, industry, and functional experience, including IPOs, start-ups, turnarounds, international expansions, acquisition, career transitions, or becoming an industry leader.
Technology innovations
As the world and business dynamics change, so do the needs of our clients. We strive to develop key technology partnerships to continually drive innovation in coaching and leadership development.
Metrics-driven approach
How will you know coaching was a success? How will you measure impact? As former management consultants, measuring the impact of what we do is part of the journey. We measure it!
Process innovations
We strive to evolve our coaching through shared learning. We continually organize events to share new learnings from which we can all benefit. Our coaches are not on an island, as is commonly the case.
Best-in-class assessment and process approach
The client's needs always drives the tools, approach we use, not the other way around. We have no vested interest in using one tool over another, which is why we believe in strategic partnerships that add value to our coaching solutions.
Equip executives with the knowledge and opportunities they need to develop themselves and become more effective.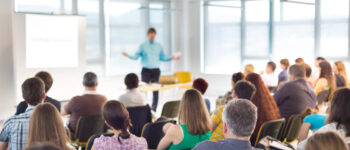 Training and educational programs designed to help you develop a broad and deep understanding of issues affecting your organization.
2 years ago, when I was working on my leadership around feedback and setting an inclusive innovation culture for my team, I was lucky enough to work with Bridgeline Executive Coaching. Their coaching expertise in applying frameworks and research-driven approaches resonated and improved several of my approaches. My coach gave me a set of tools that I continue applying in real-world settings. One of the best and most impactful coaching experiences I have had.
Chief Technology Officer
Private Equity Firm  (Energy)
My Bridgeline Executive Coaching experience was amazing! As a die-hard sceptic of coaching, I have been amazed at the breakthroughs I've had with my coach. It has completely transformed the way I approach my professional career – I've become more self-aware, and my confidence has grown. This has helped with my personal life, too, and I'm so grateful for the chance to have worked with my coach. I'm very excited to keep working with him and it helps that's he's just such a great person to talk to.
Investment Product Strategy Executive
Global Financial Services
Bridgeline Executive Coaching has been such a pivotal part of my transition into executive leadership. What I've enjoyed most is my coach's ability to challenge me to see things from all sides. My coach is a natural when it comes to executive coaching. He is authentic, informative, and keeps me engaged. I've learned to be curious, to ask the right questions to help others in their growth and development. He has been such a gift in starting this new chapter in my career. I encourage those looking to grow in your leadership to utilize their services. It will be the investment that keeps on giving.
Associate Chief Nursing Officer
Major US Hospital System
Articles on coaching and leadership